I met a...
Work for free? Whaddaya crazy?
November 13, 2009
      I just came from a company where I met a young man who had spent the last six months working as an intern–for free. For FREE? you say.     
    "I saw it as a chance to help the company and for them to help me, even if they weren't paying me," he told me.
      Here's what happened next. The guy who had the job he was dying to have, retired. Who do you think got his position? Even though the company interviewed six other people? Our smart young man.
      Working for free is one way to inch your way into a place and show 'em your stuff. You don't have to do it for 6 months. But you do have to give your all and treat it as if you ARE being paid. It's a strategy that works well today especially–when employers are being very choosy (and can be, because you've got lots of competition). You get to see what it's like to work there; they get to see what you're like. And who knows, you might end up being at the right place at the right time.
     Here's a link to a column I wrote on this subject a while ago, but it still applies: http://andreakay.com/articles/job-hunting/work-for-free/
Read more "I met a..." blog posts
Refer This Page To A Friend!
Complete the form below to send him/her this link and a personal message.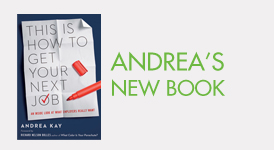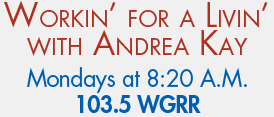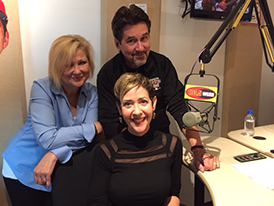 Talking about workin' for a living with WGRR hosts Janeen Coyle and Chris O'Brien.