Speaking
Andrea speaking topics and sample videos

Spokesperson
Andrea's experience includes—
Satellite TV and radio media tours
Event and trade show appearances and in-store events
In-house and educational videos
Podcasts
National and local TV appearances
Third party expert
Live radio talk show host
Panelist and panel facilitator
Expert contributor to TV and radio
Bylines for Op-Ed articles
Radio commentary
Master of Ceremonies
For—
General Motors–arranged by consulting firm, The McGinn Group, Washington, D.C.
Health Star Communications, New York, New York
Allied Barton Security Services
WKRC and WCPO TV
Clear Channel Radio
WGRR Radio
KOGO Radio
The Desert Sun newspaper
Southwestern Publishing
To contact Andrea about a program designed for your event and audience, click here.
Speaking
Named Outstanding Speaker by Society for Advancement of Management.
Named Best Program of the Year by National Association of Women in Construction.
Leading Trainer and Consultant by Leading Women.
An experienced career consultant, syndicated columnist and author tuned into today's workplace and career issues.
Consistently described by audiences as "full of humor and enthusiasm that's contagious."
Asked regularly to comment on the workplace and careers by national media including The New York Times, The Wall Street Journal, The Washington Post and Money Magazine.
Written over 1,200 columns for newspapers from California to New York.
Radio talk show host and weekly contributor on career and workplace issues on National Public Radio affiliate and ABC television affiliate news.
Who has heard Andrea speak?
Professional Associations include—

Financial Women's Association & BNY Mellon's Women's Initiative Network
New York Society of Security Analysts
Convergys Global Women's Network
Special Libraries Association
American Marketing Association
Association of Paralegal Professionals
Business Professionals Association
Cincinnati Chamber of Commerce
Execunet
Executive Women International
Fashion Group International
Financial Executives Network
Financial Women International
Greater Cincinnati Dietetic Association
Greater Cincinnati Women's Network
Home Economists in Business
International Association of Administrative Professionals
International Association of Business Communicators
International Association of Consumer Professionals
Meeting Planners International
National Association of Female Executives
National Association of Women in Construction
Public Relations Society of America
Sales and Management Professionals
Society for Advancement of Management
State and Federal Legislative Forum of Ohio
Women In Communications

Companies and Organizations include—

Apple, Inc.
Armco Steel
Belcan Staffing Solutions
Cincinnati Bell Telephone
City of Hamilton
Frito-Lay
General Electric
Hamilton County Employment Training Agency
Humana
Marion Merrill Dow
Municipal Employees Retirement System of Michigan
NCR
Oncology Associates
Procter & Gamble
UPS
Union Carbide
United Way
Whirlpool Appliances

Professional Career Conferences include—

Career Masters International
National Association of Job Search Trainers
New Mexico Career Development Association

Schools and Universities include—

Cincinnati Public Schools Adult Vocational Teachers
Kent State University
Northern Kentucky University
Purcell Marion High School
University of Cincinnati College of Business Graduates
Xavier University
Please contact Andrea about speaking to your group by clicking here.
This is Speaking, a part of Andrea Kay's website.
To contact Andrea about a program designed for your event and audience, or about speaking to your group, click here.
"You delighted all my senses...I appreciate the care you take in sharing ideas and words that feel like they're custom-selected for each one of us. Thank you for sharing your energy, brilliance and light so graciously."

--Cara, audience member at Andrea's keynote, Mayerson JCC, 2014
"I am always impressed with what an excellent speaker you are! The audience was totally with you. You are awesome!"

--Deborah, audience member at Andrea's keynote, Mayerson JCC, 2014
"In your talk there was a lot of good psychological insight and information about communicating and dealing with people. And I liked the sensitive way you interacted with people in the audience. Of course, you demonstrated in your presentation some of the same attitudes and techniques you were talking about. You were really great!!!"

--William Strauss, chairman, Strauss Troy 2013
"Your talk was very thought provoking for me…it got me thinking about a meeting I had last Friday at which I was being interviewed for a potential project. They had asked me to submit a formal proposal and then called me in to meet me and see if we were a good fit… it really was a full-blown job interview of sorts. I think I did all of the things you had recommended in your talk and we did, in the end, get the job."

--Alan Brown, president, Photonics Graphics 2013
"We had over 300 global members in attendance for your event, which was more than any prior event and a clear testament to our members' excitement to learn from you. The results were outstanding – you clearly made a significant impact in the lives and careers for many of our members. The feedback says it all: 'I really felt the presentation had been prepared just for me, it was exactly what I needed...and helped me finalize my personal development plan'; 'I have begun using some of the information in developing myself and my staff; and 'This was an absolutely fantastic session and provided a lot of areas for improving one's career'.  Your insights, your unassuming style and your straightforward recommendations were just what our global members were seeking."

--Barb King, Vice President, Convergys Executive Chair, Global Women's Network 2010
"You were terrific tonight. You have so much information in your HEAD and you present it so well; you can tell by the great response. Everyone is sitting there listening, entranced..you are talking directly to them. We need you...keep it up!"

--Flo, in January 20, 2010 audience

"Andrea is a consummate communicator, so she was the perfect choice to speak at our communicator's award event.  In addition she spoke knowledgeably about a topic that is very timely in this time of a struggling economy — networking. For the first time our group was meeting with another from the Dayton area.  Andrea's national reputation drew people from both areas.  All felt they walked away with great pointers to keep them on track.  We're looking to invite her back to do a longer seminar in the fall!"



--Patricia A. Frey, International Association of Business Communicators
"People are still talking about your amazing presentation at our women's event. Not only were you a big draw, your keynote address inspired all in attendance to go out and live their best life! While your speech was extremely entertaining, a truly successful talk is one that stays with the audience long after the laughter dies down. You got women of all ages to think about how they could take more calculated risks and challenge themselves to actually do some of the things they had only dreamed of accomplishing...people left feeling motivated and ready to make positive changes in their lives. It is the rare presenter who can leave an audience with such a valuable gift!"

--Pamela Richards Saeks, Program Director of non-profit organization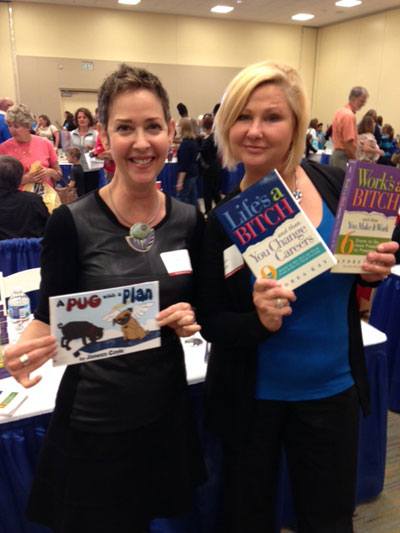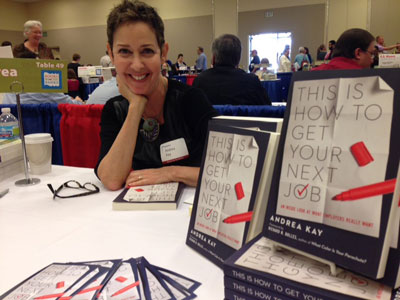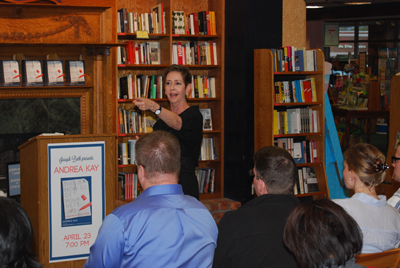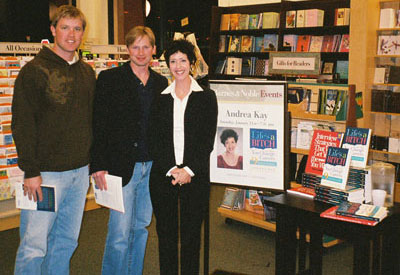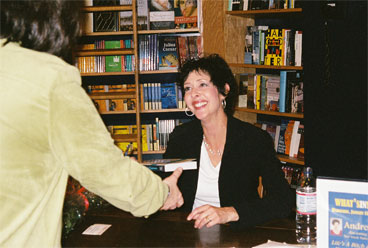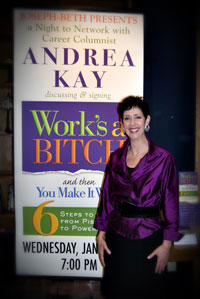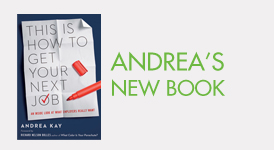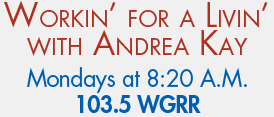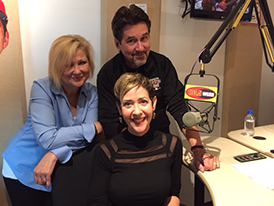 Talking about workin' for a living with WGRR hosts Janeen Coyle and Chris O'Brien.