Privacy Policy
This Privacy Statement outlines how information is collected at Andrea Kay's website (www.andreakay.com) and how the information will be used. This Statement will also tell you how you can request that we delete or update your personal information.
INFORMATION COLLECTED AND HOW WE USE IT
In general, you can visit AndreaKay.com without telling us who you are or revealing personal information about yourself – although you may then not be able to access certain services.
From time-to-time we may ask visitors for Personal information (such as name, address, telephone number, e-mail address, etc.) when visitors register for and/or inquire about certain services, or when visitors contact Andrea Kay directly. Providing Personal information is completely voluntary. You always remain in control of the information you provide Andrea Kay.
We collect, maintain and use personal information you have voluntarily submitted to contact you, including via email, or to respond to your comments or requests for information.
YOU CAN CHOOSE TO BE CONTACTED OR NOT
At AndreaKay.com you always remain in control of the information you provide.
To request removal from Andrea Kay's mailing list, please send an e-mail click here, and type "REMOVE" in the subject line.
To submit a question or comment pertaining to an Andrea Kay product or service, please click here.
To access or update the personal information you may have submitted via AndreaKay.com, please email your request by clicking here.
SECURITY
Andrea Kay is committed to keeping the data you provide us secure and will take reasonable precautions to protect your personal information from loss, misuse or alteration. Vendors, contractors, or partners of Andrea Kay who have access to your personal information in connection with providing services for Andrea Kay are required to keep the information confidential and are not permitted to use this information for any other purpose than to carry out the services they are performing for Andrea Kay.
LINKS TO OTHER SITES
AndreaKay.com may contain links to other websites. Andrea Kay has no control over the privacy practices or the content of such websites. We recommend you carefully read the privacy policies of each site you visit.
YOUR ACCEPTANCE OF OUR PRIVACY PRACTICES
By using this website you signify your acceptance of our Privacy Statement, and you adhere to the terms and conditions posted on the website.
This is Privacy Policy, a part of Andrea Kay's website.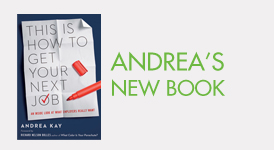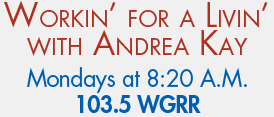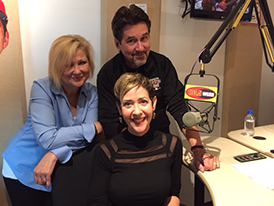 Talking about workin' for a living with WGRR hosts Janeen Coyle and Chris O'Brien.