Media
Andrea Kay is a savvy guest and valuable resource on the world of work, offering real-life anecdotes and thought-provoking, up-to-date insight into the work world.
Concise and direct in her presentation and responsive to deadlines, she is a nationally syndicated columnist and author of six books and is known for giving candid, practical advice that's sprinkled with her effervescent personality. Having coached executives, she is keenly tuned into the dilemmas leaders face as they manage companies while keeping their own careers on track. She advises seasoned professionals–-as well as those just starting careers–-on workplace and career dilemmas. You name it, she's dealt with it, having counseled employees in all types of professions at corporations, non-profits and in government, small businesses and healthcare firms.
Andrea is at home in live radio and television interviews. She has appeared on CBS several times and has been featured on hundreds of television and radio programs across the U.S. and Canada and internationally on Reuters News in addition to being a weekly contributor on an ABC and CBS television affiliate morning news programs. She has also been a weekly contributor on a National Public Radio affiliate and hosted the live, call-in radio career talk show, "Ask Andrea." Andrea has been widely quoted and interviewed in national publications including The New York Times, The Wall Street Journal, The Washington Post, The Chicago Tribune, Associated Press, Smart Money, Kiplinger Financial Magazine, Redbook, Mademoiselle, National Business Employment Weekly and Woman.
Andrea has reached millions through:
This is Media, a part of Andrea Kay's website.
"Every word out of Andrea Kay's mouth is gold...No matter who they are, or what their dreams may be, Andrea can find a way for people to navigate this crazy working world of ours."

--Ellen McGirt, Money magazine
"She is bubbly, fun and a good talker."

--CBS
"Everything Andrea talks and writes about is spot on and well researched and very practical."

--Vicki St. Clair, KKNW, Seattle (2013)
"[An] insightful job-hunting book….This book should help give job seekers an edge over the competition."

--Publishers Weekly
(Click to see full review.)
"You are a great guest ... you know your subject, you're articulate, confident, authoritative. Yet have a sense of humor, and present challenges and solutions in a very concise and pragmatic way."

--Vicki St. Clair, KKNW, Seattle (2009)
Andrea is "Cincinnati's Best Career Counselor"

--Cincinnati Magazine, 2002 "Best of the City" issue
"She's thorough, knowledgeable and tailors her advice to you; she's also mellow and easy to deal with, not paranoid that you'll misquote her or not plug her projects enough."

--Chickclick.com
"Andrea was quickly able to answer listeners' questions and respond to comments."

--News Director, WNKU
"I was channel surfing and I happened to stop on your interview on ICN6 TV. I was very down and in a bad place. Your logical words inspired me...your points got me thinking...through your information and inspiration I have secured a new position with a raise and better medical benefits. I never would have guessed that in this horrible economy I could have done that. Your presentation of solid information is outstandingly unique and refreshing in a sea of boring, rehashed presentations. Your attitude and approach is inspiring in so many ways. Thank you!"

--Cable television viewer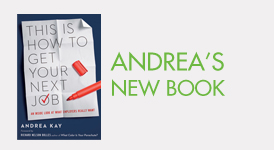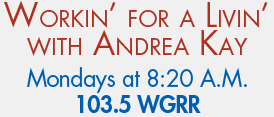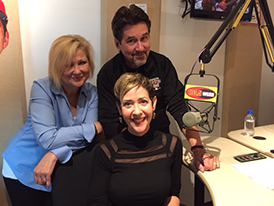 Talking about workin' for a living with WGRR hosts Janeen Coyle and Chris O'Brien.