5 ways to enjoy your work and life more.

More Details
Are you one of those people who can't put away technology and is always connected to work? Do you feel you can't escape your work? Does the problem, perhaps, lie with you? That need to be constantly connected and available could be coming at the expense of your life, and maybe your loved ones.








This is Andrea's eStore, a part of Andrea Kay's website.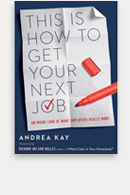 This Is How To Get Your Next Job: An Inside Look At What Employers Really WantBuy on Amazon
Amazon Rating:

Buy on Barnes & Noble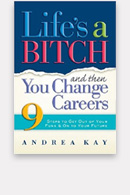 Life's a Bitch and Then You Change Careers: 9 Steps to Get Out of Your Funk & On to Your FutureBuy on Amazon
Amazon Rating:

Buy on Barnes & Noble
Barnes & Noble Rating: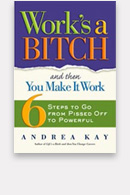 Work's a Bitch and Then You Make It Work: 6 steps to go from pissed off to powerfulBuy on Amazon
Amazon Rating:

Buy on Barnes & Noble
Barnes & Noble Rating:


"You give really good specific suggestions rather then the typical vague stuff."

--Chris
"What I learned increased the salary offer I got by $10,000!"

--Shawna
"I splurged on several of these (just kidding--it's like downloading a song how can you go wrong at this price?) The words of wisdom are spot on. I keep referring back to them."

--Randy
"I learned how to think like the interviewer and it worked like magic. I got two interviews and then an offer."

--Linda
"These tips saved me from taking a job with the wrong company. Then knowing what I learned, I found the right company."

--Michael
"Now I can talk about myself without droning on and on. I am organized in my thinking and confident. Andrea's advice is worth every penny."

--Pat
"Like everything Andrea says, this advice is to the point and packed with nuggets of wisdom."

--Greg
"Don't hesitate to get these. Easy to read, must-read advice!"

--Kathy