---
Stay in demand by doing this two times a week.

Whaddaya, nuts? That's what most people ask me when I advise, that, in addition to their full-time job, they need to set up networking meetings, research new career ideas and in some cases conduct a job search. Who has time? Very few, but especially when they approach it the wrong way. Here's the right way.






This is Andrea's eStore, a part of Andrea Kay's website.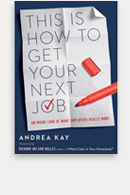 This Is How To Get Your Next Job: An Inside Look At What Employers Really WantBuy on Amazon
Amazon Rating:

Buy on Barnes & Noble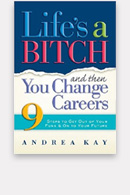 Life's a Bitch and Then You Change Careers: 9 Steps to Get Out of Your Funk & On to Your FutureBuy on Amazon
Amazon Rating:

Buy on Barnes & Noble
Barnes & Noble Rating: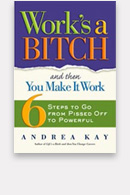 Work's a Bitch and Then You Make It Work: 6 steps to go from pissed off to powerfulBuy on Amazon
Amazon Rating:

Buy on Barnes & Noble
Barnes & Noble Rating:


"You give really good specific suggestions rather then the typical vague stuff."

--Chris
"What I learned increased the salary offer I got by $10,000!"

--Shawna
"I splurged on several of these (just kidding--it's like downloading a song how can you go wrong at this price?) The words of wisdom are spot on. I keep referring back to them."

--Randy
"I learned how to think like the interviewer and it worked like magic. I got two interviews and then an offer."

--Linda
"These tips saved me from taking a job with the wrong company. Then knowing what I learned, I found the right company."

--Michael
"Now I can talk about myself without droning on and on. I am organized in my thinking and confident. Andrea's advice is worth every penny."

--Pat
"Like everything Andrea says, this advice is to the point and packed with nuggets of wisdom."

--Greg
"Don't hesitate to get these. Easy to read, must-read advice!"

--Kathy