I met a...
Orthopedist whose hand
May 17, 2010
…didn't move from the door knob once he entered the room of his patient. He never sat down; just stood there gripping the door knob so he could make a fast exit and get on to the next door knob.
Nurse who didn't want to be a nurse anymore
May 2, 2010
…and set out at age 50 to do what she always wanted–to work in the national Park Service as a geologist and interpreter. That was 6 years ago. This week she was on an airplane bound for Alaska to start her new job in Katmai National Park and Preserve. If you think you can't change careers, hear Nina's story. It might change your mind: http://www.shreveporttimes.com/article/20100430/NEWS05/4300317/1064
A fast-talking woman
April 27, 2010
…who ends most of her sentences with, "Right?" as if I am supposed to know that whatever she is saying is indeed right and then nod my head in agreement. She'll say, "The sky is yellow and the flowers are black, right?…so the trees have to be purple, right?" No, not necessarily, I want to say.
Captain of a boat
April 23, 2010
…who has been taking people up and down the river three times a day for 35 years so they can see the birds and fish and turtles. He called it, "A nice rut."
Weird receptionist at a company
April 19, 2010
…whom I asked: "Excuse me, can you tell me how to enter this office where I have a meeting?" She replied, "You're not allowed to interrupt us." "Pardon?" I asked, to which she explained that I'm not allowed to talk to her until she acknowledges me. Bad, bad customer was I.
Man at a meeting who was trying to impress us
April 16, 2010
… with what he could do. He said things like "I can improve your actionable branding, your critical initiatives and expectation clarification…" and he made me fall asleep.
Film editor
April 9, 2010
…who had recorded a live speech by author, inventor and futurist Buckminster Fuller, only to discover later that day, that the audio was no good and Fuller's speech was lost. "We will go anywhere in the country where you're giving your next talk," the film editor's company told Fuller, to record him again. The next day Fuller died.
Musician
April 3, 2010
…who said he grew up with a mother who "was all scattered. I'd miss the school bus and she'd be driving me to school with breakfast on her lap, putting on lipstick. This was normal." Today, he says, that's why he loves change, "getting things done with no plan and making it by the seat of my pants."
Man who joined the military in his 50's
March 30, 2010
…to become an army historian. "This is a piece of history and I want to document it," he said. And so he sits, day after day, in fox holes in Afghanistan interviewing soldiers to make sure their stories are told.
Former Navy pilot
March 27, 2010
…and long-time airline employee from Melbourne, Florida, who in response to my column on airplane control tower operators and the intensity of their jobs, said: "Pilots depend on tower operators to guide them in the final stages of their flights when everybody holds their breath…"
Man named Mike Smith
March 23, 2010
…who told me that one out of every 10 male Americans is named Mike Smith.
Woman who works in customer service
March 19, 2010
…at the sanitation district. When I called to ask about a bill that didn't make sense she said, "Your bill was finaled up based on your winter factor, which is a four." Gee, that really helped clear things up.
Dental Hygienist
March 14, 2010
…who has been cleaning people's teeth for 30 years and dispensing sensible advice like, "Floss and brush every day between now and your next appointment." She's frustrated because barely anyone does what she tells them, leaving her to clean up the mess. "I feel like a tooth maid," she told me.
Man who loves pens
March 8, 2010
…and spent hours in a pen store searching for the perfect one. He took his new pen home, then brought it back to the store a few days later, because he said, "It just doesn't look good in my pocket."
Teacher on the radio
March 4, 2010
…who confessed that she began to get better results when she stopped teaching history, math and English and began teaching children.
Patient man who works in the plumbing department at Home Depot
February 25, 2010
… who spent an hour combing through aisle five, I think it was, to find just the right plumbing apparatus for my newest art project. Who knew a man named Steve in the plumbing department would care so much about art.
Man with ADD
February 22, 2010
…who told me I had 2.7 seconds to get his attention. I felt so pressured to say something so he wouldn't look away, I couldn't think of anything. And that was the end of that conversation.
Young person
February 20, 2010
…who, when I said, "Thank you" for something she had done, responded with, "You're welcome." To which I responded: "Thank you for not saying, 'No problem.' "You're welcome," she said.
Woman who knows her financial stuff
February 18, 2010
…actually, I only saw her on TV. She was the only female on a panel of four and was sharp and quick and witty. Before she shared her wisdom, she prefaced her words. "Not to talk too much, but…," she said. Then before her next comment, she said, "Not to add to Bob's comments, but…" Not to be critical, but I wished she'd stop apologizing for being just as good as the guys.
Woman who went to the same horse-back riding camp
February 16, 2010
…I did when I was in sixth grade. Back then she was afraid she would fall off the horse when it jumped over the creek or if it got spooked by thunder. She gritted her teeth and held on so tight to her horse's reins, she nearly cracked a molar. Today she is worried about her career. She's keeping her head down and not offering her good ideas anymore, holding on so tight that she's about to lose what matters to her most—a job she cherishes.
Distracted pedestrian
February 14, 2010
… the other day as she stared at the electronic gadget in her hand and stepped right in front of my car. I slammed on my breaks and she screamed, "What's the matter with you?" I wanted to ask her the same thing, or more specifically, why she valued her gadget more than her life.
Great writer
February 11, 2010
…who has three walls in his office peppered with awards for his creativity and writing ability. Awards for plays, movies, articles and advertising that moved people to take action and brought them to tears. One day, a college professor heard him speak eloquently to a group of students as a visiting lecturer. The students sat rapt as he explained the art of writing and answered their questions about how to apply this skill to the real world. This professor asked him to teach a course at his university. But when the university discovered this award-winning writer of 35 years was a few credits short from getting his degree, they withdrew the offer and denied their students who want to be great writers an experience that would change their lives.
Playwright
February 9, 2010
… yesterday who said that writing can be like therapy…if you actually sit down and write. If you want to be a writer, stop talking about writing and sit down and write something. Anything. Every day.
Parking meter violation ticket person
February 5, 2010
…who wears a tough-guy scowl on his face as he hunts for violators. "Do you feel like everyone hates you?" I asked him. His tough-guy scowl tightened. He asked me, "This your car?" then handed me a Parking Infraction Notice and walked away. Yes, we do hate you.
Brave woman
February 4, 2010
…who decided to quit her day job to focus on her side business. "I don't know how long it will take to get this up to speed, I don't know when I will get my next pay check. Crazy, eh?" she told me. "I have asked myself, what is the worst thing that could happen after a year? I am letting go of my fear. I am happy. Now, my personal life is another story."
Man who jumped from a plane
February 3, 2010
…whose parachute didn't open. What went through your head? I asked him, as you were falling through the sky. Three things, he said: "I'm going to die. I don't want to die. What do I need to do to not die?" He's asking himself the same questions about his career right now.
This Is My Old Blog
February 3, 2010
Below this point you'll see entries from my old blog. It was time for a change. My new blog is called "I met a…"
Clutter Talkers.
January 11, 2010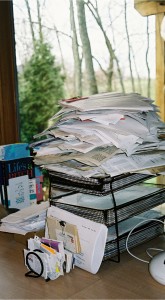 There is way too much clutter going around. For one, in my office. (See this pile? Ideas I have that I haven't gotten to yet–a subject for another day.)
 I'm talking  about sentences cluttered up with "Sorta" every other sentence.
"I tried my new outfit on which sorta looked good, and then I sorta wondered if it matched my grey shoes. Which sorta look fabulous with anything. It takes so much time to have to dig through my closet, so I sorta don't do it." 
I asked someone what they wanted to do with their career. They said, "I sorta wanna be on my own where I can sorta do what I want and make money."  Another said, "I sorta wanna figure out my calling. Like if I should be a programmer still, or if I should figure out what else I could sorta do in my field." More sorta comments I heard this week: "I was sortav looking around…I sortav entered the mainstream… …sorta added elegant beauty…it sortav connected…he is a sortav pioneer." 
OK, I'm done. And I feel much better. Not sorta better. A lot better.
Holiday perks anyone?
December 10, 2009
Did you think it was going to be all work and no appreciation this year? Well, not according to many employers. It may be scaled back this year, but they still plan to reward with bonuses, gifts and parties, says CareerBuilder's survey of over 3,000 employers. Twenty nine percent plan to give holiday bonuses. Only 26 percent plan to give gifts. Nearly half said they'd be throwing a party. And speaking of parties, here are some do's and don'ts for office parties in this article I was interviewed for in AOL's Daily Finance: http://www.dailyfinance.com/2009/11/30/people-work-enjoy-the-holiday-office-party-without-injuring-you/
Randy & Rocky
November 24, 2009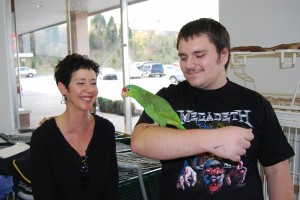 Randy Johnson fell in love with birds when he was three and a Rocket Macaw bird in a pet store said, "Hello." Today the 16-year old volunteers with Raptor, a Cincinnati-based nonprofit dedicated to the preservation of birds of prey. He knows what he wants next: to attend a school of zoology and ornithology. First, though, he wants to buy Rocky, this green Amazon parrot who he has befriended. He says he'll "cut grass, clean floors, windows, cars, anything" to raise the money–$1500. He's up to $200. If you want to help him achieve his goal, let me know. I'll pass on the word to Randy, future ornithologist.
Looking for Ohio vets who want to write
November 20, 2009
I'm a volunteer mentor for the Writer's Guild of America East Foundation's Veterans Project, which is an ongoing writing workshop for veterans. We meet with veterans several times a year to help support those who want to learn the craft of writing from writers involved in screen, stage and publishing. As Tom Fontana, president of the foundation said in an October New York Times article about the project, the meetings grew from en effort by Guild writers to get in touch what he likes to call "American stories."  The plan, "is to train those who wish to write–with no vetting for talent or professional ambition–in settings far from the entertainment corridors of New York and Los Angeles." The project gets support from the Wounded Warrior Project and the National Endowment for the Arts Operation Homecoming. If you're an Ohio veteran who's interested, please write me: andrea@andreakay.com.
Check this out: Actress Merritt Mitchell, one happy career changer.
November 19, 2009
Back in 2005 I interviewed Merritt Mitchell for my book, Life's a Bitch and Then You Change Careers. Wow has this woman been making hay ever since!
She emailed me this week with an update and ever since she said, "Yes, I am going to change my life!" she's been getting work doing the thing that was gnawing at her. (Step 1 in my book: "Discover that restless gnawing in the pit of your gut.")
She says, "I successfully transitioned from working in the corporate world as an executive assistant and became an actor. I followed my passion and am so glad that I did.  You know the feeling when you just know that you're supposed to do something?  I couldn't find anything else that I found as challenging or interesting as acting. I have recently finished filming a couple of independent films and also worked on Tyler Perry's show "Meet the Browns".  I constantly audition for television, film and commercials.  I have also performed in my first play since I was cast in Cinderella in the third grade. Good luck with your endeavors and keep on inspiring those who want to make a change.  With a little imagination..the sky's the limit!"
Work for free? Whaddaya crazy?
November 13, 2009
      I just came from a company where I met a young man who had spent the last six months working as an intern–for free. For FREE? you say.     
    "I saw it as a chance to help the company and for them to help me, even if they weren't paying me," he told me.
      Here's what happened next. The guy who had the job he was dying to have, retired. Who do you think got his position? Even though the company interviewed six other people? Our smart young man.
      Working for free is one way to inch your way into a place and show 'em your stuff. You don't have to do it for 6 months. But you do have to give your all and treat it as if you ARE being paid. It's a strategy that works well today especially–when employers are being very choosy (and can be, because you've got lots of competition). You get to see what it's like to work there; they get to see what you're like. And who knows, you might end up being at the right place at the right time.
     Here's a link to a column I wrote on this subject a while ago, but it still applies: http://andreakay.com/articles/job-hunting/work-for-free/
What Mayor Bloomberg can teach about biting one's tongue
November 3, 2009
It seems as though NYC Mayor Michael Bloomberg has been getting some coaching, according to those who've observed him up close. That is, he's been getting tips on how to muzzle it. Known for "his trademark snarkiness" and lashing out–as described in a New York Times article–it looks as though someone has been coaching him on how to change his behavior–which is changing the image of him as somewhat insensitive and out of touch. Which is key since he's running for re-election. The article quotes one of his advisers: "The path to a defeat is through those kinds of slip-ups or any combativeness on his part."
The same goes for you in your career. If you don't know how you're coming across to others–or you've been told and it wasn't so hot–better get some coaching. It can be your path to defeat. People get fired for this stuff. Lose out on great jobs. Lose their touch in leading others–if they ever had it. We'll see how the election turns out for Mayor Bloomberg today.
Why it's a great time to change careers
October 30, 2009
There's never going to be a convenient time to change your career. If you're waiting until you have no obligations, the economy is right or the moon and stars are perfectly aligned, you may as well forget it. Stop  listening to the negative collective who is saying: "This is not a good time to change careers." Think for yourself. Why would it be the wrong moment to change your direction? A time when thousands of jobs–maybe yours–has been lost and are never coming back. Why would this be a dismal time to search your soul for work that's more fitting to who you are, where the world is headed and where you can be more employable? It doesn't make an iota of sense to throw out the idea of a career change before you even know what's involved. Do you even know what would be involved? I write more about this in my column this week. Here's a link to the Shreveport Times paper: http://www.shreveporttimes.com/article/20091030/NEWS05/910300325/1064
Do you still need a resume? she asked.
October 23, 2009
Someone asked me that today when I was giving a workshop. You sure do need one, I said. Even if you have a Web site, a blog and are on LinkedIn, you need that piece of paper. Still. Potential employers will request it, for one thing. But don't think for a minute that it will GET you a job. It's a mere tool. A tool you need for job-hunting. And for times when you're being considered for other endeavors–like being on a board. But I think the greatest value of a resume comes from the exercise of actually creating it. If you do it right, you have to think through things like: What are your top six strengths? What have you done that proves those strengths made a difference? What do you know about? Why should someone hire you? Then you have to write it in a way that others get what in the heck you're talking about. This is good because it prepares you for talking about yourself without going around in circles and boring them to tears. It helps you think about why you're better than your competition. So yes, create a resume. Do it right. And it will do its job.
The 1 thing to think about before you go on your interview
October 15, 2009
If you're prepping for a job interview, think about this: What do you want people to remember when you leave the room? You'll have many interactions with the employer–from your first email or phonecall to the day you're face-to-face. What matters most is what stands out in the interviewer's mind long after you've packed up your PDA and portfolio.
Here's what I mean. Remember back in July when President Obama was asked about the incident with Professor Louis Gates Jr. and what it said to him about race relations in America? When he responded, most media reports focused on one part of one sentence–"that the Cambridge police acted stupidly." He started off with, "I should say at the outset that Skip Gates is a friend, so I may be a little biased here. I don't know all the facts…"–and he said much more. But all anyone heard were the words, "acted stupidly." And that's what everyone remembers. Unless your interviewer falls asleep, everything you say will be heard and may be used against you. Don't give interviewers a reason to eliminate you. Grapple with two questions before you go public:
     1. What do I want them to walk away remembering about me?
       What do I want them to know and feel about me?
     2. How will I stay focused on information that's "on message"?
     Stay away from words that pack emotion. Words and phrases like "stupid," "that idiotic company," "my boss, the biggest jerk in the world."  That is unless you want to be remembered as "the guy who had it out for his boss."
I love this phrase. Could be the start of your next career.
September 25, 2009
I'm going on a tour of The Westcott House, a home designed by architect Frank Lloyd Wright in 1906 and for some reason, "a lost Wright artifact," according to the Web site, westcotthouse.org. I love seeing his work. A man who had such passion for creating. It's been recently restored to its original state which they describe as a "painstaking and exacting labor of love." I love that phrase. I rarely hear anyone say that about their work. What would you be doing if you were willing to do it with a "painstaking and exacting labor of love?"  What kind of work, project or endeavor would that be for you? This is a good question to ask yourself if you're searching for ideas on the kind of work you truly want to do.
You can't conduct a job search from your computer
September 4, 2009
I noticed several people complaining on newspaper sites about one of my points in a recent column I wrote. My point was this: If you enjoy punishing yourself, stick to your If-I-send-out-enough-resumes-someone-will-want-me strategy. Because odds are great you won't get a "Thanks," let alone an interview when you answer ads that everyone and his brother is also responding to. I go on to say that instead, put on your best suit and sit yourself down in front of people where you can wow them in living color with how you can help them. But, how do you get in front of  employers when they only let you send them your resume? folks are complaining. Here in a nutshell is what you do: You target people (not companies) who you know and who know other people and you ask them if you can have a half hour of their time to hold a purposeful conversation about your career. You tell them about yourself. (See my Mini Must-Read in my e-Store called "A long, short and even shorter way to talk about yourself in Interviews & Networking" in the "Job Interview" category.) Then you ask good questions, ask for their advice and leave such an incredible impression and sense of what kind of problem solver you are so that: 1. They might consider you for their company if they need someone like you, 2. They refer you to others they know, or 3. They keep you in mind for the future. Bottom line: people hire people. And to anyone who says, "No one wears suits…" I say: Do you want to be memorable and stand out from your competition? Do you want to look professional? Dress like one.
Older worker asks…
July 28, 2009
"What advice do you have for older people who have been downsized and are trying to get back into the workforce?" writes older worker, Rodney. The same advice I give to anyone: Give me a reason to hire you. Here's your job as a job hunter: 1. Figure out the problems a company or industry have, 2. Show the potential employer you are the solution. It doesn't matter how old you are. What matters is whether you have talents, know-how, attitude and potential to help the company. Figure out how you'll explain that so the employer gets that about you. I've got an e-guide coming out in the next week or two that shows you how to do that. Watch for it on my site.
No one is hiring you say? It just ain't so.
July 21, 2009
For the, I'd say, maybe tenth time in a week, someone I know got a new, great position. Ron is one. And he wasn't even looking. Out of the blue, one of his clients says to him: "So, Ron would you consider coming to work for us?" How does this happen? Like it usually does. Someone you know has seen you in action. They know what you're like. Dependable. Quick thinking. Detail-oriented. You always do what you say you're going to do. You know your subject matter. You're good at your trade. They've gotten to know you, trust you and like you. So when they have the need for someone like you, they think, mmmmm, who do I know that I like and trust and can do this job? I know! Ron. Soooo, if you're not in a job right now (or even if you are), get your butt out there. Volunteer  for a committee where you can strut your stuff…attend events where people get to know you…so when the need crops up, people will think, mmmmm, who do I know that I like and trust and can do this job?  It might just be you next time.
Like Al Franken, you are not your title.
July 1, 2009
Since Al Franken was declared winner of the Senate race in Minnesota the chatter about whether he'll be successful in his new career hasn't stopped. Can a former comedian, author and political pundit do the job? Will he be taken seriously? One of the biggest obstacles any career changer faces is the propensity for everyone to classify you by your former title. People do that because it's easier for them to understand who you are (or were) when they can classify you. "You're a programmer and you want to be a chef?" My clients hear that type of thing all the time. So if you're trying to make a career change, expect that, but be ready to help folks see you differently. You're not your title. You never were. You're a body of transferable skills, talents, knowledge, interests and desire to make a difference in a new field. That's how you talk about yourself. You may have been a comedian, an accountant or a farmer. That's nice, but, depending on what you want to do next, may not be helpful when it comes to helping others see how you can indeed work in another field. Franken's ability to think on his feet and skillfully communicate and his depth of knowledge and passion about issues is part of what will help him in his new career. What are your greatest skills? What do you care about deeply that will make you great at this new career you're seeking? That's what you need to know and tell people without batting an eye.
Yes, people are getting jobs–even negotiating for what they want.
June 22, 2009
I began working with Cathy last fall when the economy was going to pot. Since then she's been strategically (key word) thinking through her next career move after she got laid off. She never panicked–also key. She wrote me this morning to say: "I finalized everything on Friday and I am officially the VP of Sales  & Marketing…I was successful in negotiating the salary I wanted and the overall package that I was hoping for. Our time together in the fall helped me to identify my skills and gave me the ability to verbalize my strengths in a very precise way.  Our talk last week helped me stay focused on negotiating the compensation package I wanted. I am thrilled to be a participant in the workforce again and I appreciate your help." It's so, so easy to panic and get off course. Find someone who will keep you focused on what you want, while everyone else is proclaiming that you have to take what you're offered.
Companies who say: Quit smoking
June 18, 2009
This week Humana of Ohio implemented a new policy that requires new employees who smoke to go through a smoking cessation program. They are not refusing to hire smokers, said a Humana spokesperson as reported in the Business Courier. And they're not firing them if they are not successful in their effort to quit. Some people are outraged and  "That's discrimination!" accusations are flying around. Now remember, Humana has said it's not refusing to hire smokers. But on that subject, according to attorney Claudia G. Allen of Strauss & Troy, Cincinnati, Ohio, "an employer can decide not to hire someone in a class that is not protected by law, such as smokers, for many legitimate reasons, " and "a number of companies have made that  decision." To be really clear about this, she explains further: "Employers are free to hire those they perceive as the best people to do the work, but cannot base their decision on criteria that would result in discrimination against a protected class. The protections have been enacted so that stereotypes about these workers' abilities are no longer a factor in hiring. For this reason, Humana could not, for example, decide it will not hire women to work the midnight shift without running afoul of the law." There's more to come on this in an upcoming column.
How to be a successful freelancer
October 8, 2008
This is great advice from a man who knows what he's talking about!
Don Hauptman. You may not have heard of him, but you need to know him now. I met him over 20 years ago and I can't begin to tell you how much I have learned from him over the years. And you can get a peek at his vast knowledge through his new e-book, The Versatile Freelancer http://www.versatilefreelancer.com/ .  He researched and wrote it this year, during a period of economic gloom, unemployment, bank failures, foreclosures, plunging stock indexes and fears of recession.
Yet all the people he interviewed told him that their practices were unaffected and that they were doing as well as ever, or even better! Many attributed that happy situation to their versatility. Don interviewed me for his book, which I highly recommend if you want to explore how you might be able to share your knowledge and experience—and get paid for it.
I know many people who have successfully diversified into critiquing, consulting, training, and presenting. His book will tell you everything you need to know. I read a lot of books and I think this one is one of the most relevant—especially today!
Why wasn't the engineer paying attention to his job when his train crashed?
October 1, 2008
It shouldn't take a tragedy like the 25 people killed and more than 130 injured from two trains colliding outside Los Angeles last month to get people talking about whether it's a stupid idea to text message at work.But it has.
I wrote about this in my column this week..  At the time I wrote that, it had not been determined with certainty that the distraction of text-messaging was the cause of the crash. But today, federal investigators said the train engineer had sent a cell phone text message 22 seconds before his commuter train crashed head-on into into the freight train.
For the life of me, I can't figure out why, in light of a locomotive engineer's job, he would take such a risk. Why would anyone whose job it is to be vigilantly monitoring gauges and meters and watching for signals on the road and in the yard be distracted with sending text messages?
The records obtained from his cell phone provider show that he sent 24 text messages and received 21 over a 2-hour period during his morning shift! In the afternoon, he received seven messages and sent five!
The people on these trains put their lives in his hands. Yet his hands and mind were busy sending text messages. He lost his life too.
What will it take for people to be responsible and put down their technology and pay full attention to a job they committed to do?
This is Andrea Kay's Blog, a part of her website.
Awards


Andrea Kay was named "Best Career Counselor" by Cincinnati Magazine


Andrea was awarded the Women In Communications Gem Award
For adherence to the highest standards of practice in professional communications and support of women in the work force.


Andrea was given the 2009 Leading Woman Award for Consulting, Training and Education by Leading Women.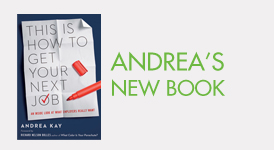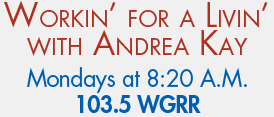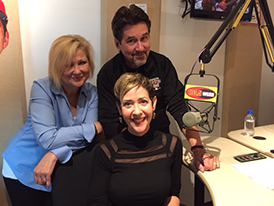 Talking about workin' for a living with WGRR hosts Janeen Coyle and Chris O'Brien.