Work's a Bitch and Then You Make It Work
6 steps to go from pissed off to powerful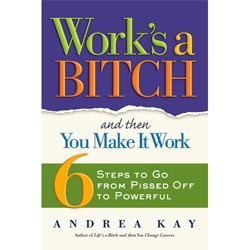 Amazon.com Avg. Customer Rating:
Barnesandnoble.com Avg. Customer Rating:
|
Buy on Amazon
| |
Buy on Barnes & Noble
|
Join the club if you feel stuck, unsatisfied, betrayed and angry. Nearly 85% of the workforce is fed up with giving more and getting less, working their butts off, enduring injustices and careers that suck the life out of you. In my new book, you have the chance to bitch about it and explore what's wrong with the workplace today – but then I show you how to turn your anger into something more productive to get what you want. Whether you work for a company, are job-hunting or on your own, there's something here for you. Learn:
How to be prepared and ready to cope with the unpredictable
To sniff out clues that reveal whether or not a company is where you want to work
To define and get up the nerve to ask for the kind or work arrangement you want
To have more time with family and friends
To be appreciated at work
This is Work's a Bitch and Then You Make It Work, a part of Career Advice Books, on Andrea Kay's website.
Buy the Book
Test Yourself
Awards
Andrea's books have been recognized by the Ohioana Library Association for Literary and Artistic Achievement.
Thanks for a great book, Work's a Bitch!!! Great book. I am going to get all your other books now more than ever! Keep writing them.

--Stella
"It took your information to make me turn the mirror on myself and rethink what I was doing, make corrections and go forward in a positive manner. You made me believe in myself even stronger so that the confidence I always demonstrated at work was restored for the interview process. You made me realize that it was OK to be completely me and celebrate the difference that I bring...and that is what got me my new position. Thank you for your contribution and direction to get me back on track."

--Reader in Kentucky
"I want to tell people to seek the wisdom that is Andrea! Your books are a great support system to help guide one through the gloomy gully."

--Reader in Cincinnati
"You once again show one of your greatest gifts--putting into words what others cannot. You identify the 'essence' of both people and situations. Thank you for drawing attention to the prevalence of 'I'm here, but I'm not really here' issue in the workplace. Thank you for shooting holes in the work/life balance theory. There are many things in this book that I need to hear. One was that I could stand to get rid of my 'all-or-nothing' attitude. You must have written the 'all-or-nothing' attitude with me in mind, because I've been calling myself 'The All or Nothing Girl' for years. I think this may go along with 'end the search for perfection' (p. 81). I always enjoy your humor. This book gave me both great belly-laughs and tearful thoughts. The examples and personal stories are what really resonate with the heart. They provide the energy to perform the 'activities' throughout the book."

--Beth Day
"I appreciate your fresh, straightforward approach suggesting effective action with engaging language. You are not afraid to deal with difficult bosses, shame or changing careers. I find your writing style, attitude and approach very refreshing and inspiring in so many ways."

--Rand
"Challenge is the opportunity for greatness, and Andrea Kay wants you to know that you have no excuses for not exercising your personal power in the face of adversity. Work's a Bitch and then You Make it Work is straight talk, never pep talk, and you'll be much wiser when you listen intently to Andrea Kay's counsel. Sometimes sassy and always witty, this book is full of real-life, real-time examples, practical and useful advice, and lots of good humor. With every turn of the page you will find ways to charge of your life and you career."

--Jim Kouzes
Bestselling author of The Leadership Challenge and A Leader's Legacy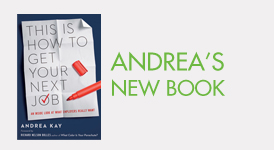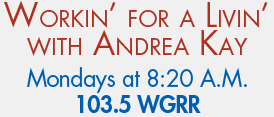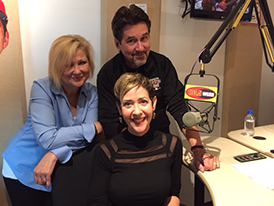 Talking about workin' for a living with WGRR hosts Janeen Coyle and Chris O'Brien.