Resumes That Will Get You the Job You Want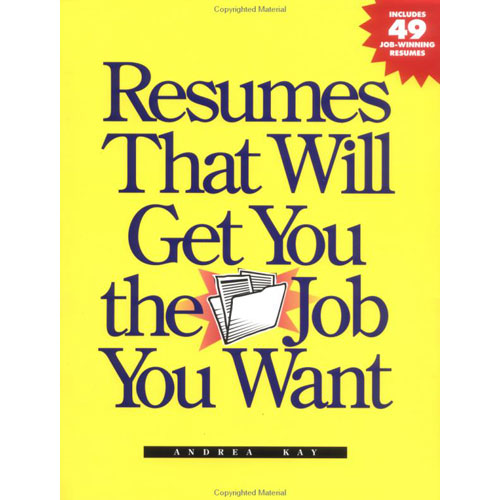 Amazon.com Avg. Customer Rating:
|
Buy on Amazon
|
Shows you how to create a resume that positions you for the job you want, not just the job you can get. Includes sample resumes described by Fortune 500 human resource directors as "the best resumes I've ever seen." Learn:
Eight things you waste time worrying about
Dumb things people include on their resume
How to make complicated things sound simple and boring things interesting
About electronic resumes
Four things everyone reading your resume wants to know
*Also available in Chinese
This is Resumes That Will Get You the Job You Want, a part of Career Advice Books, on Andrea Kay's website.
Buy the Book
"Your style of writing made me feel so at home that your book is my main career resource."
--S. P., South Carolina
"I love your resume book. This book will help anyone find the words they need to most accurately represent themselves on paper. Out of all the publications on this topic, this is one of the best. I recommend it to anyone who could use help in getting their point across on paper.
--S. H., Chicago, Illinois
"I was looking through the resume books on the shelf and your book was just what I had hoped to find..the only one that helped me develop each section of my resume so that it is meaningful to an employer and reflects what I can do. I would recommend this book to anyone and plan to give copies to family and friends."
--R. in Boulder, Colorado
"I am one of the lucky people that came across your wonderful book!"
--Miriam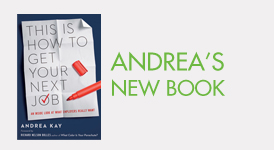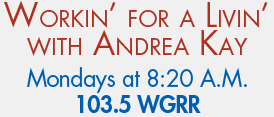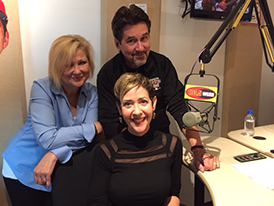 Talking about workin' for a living with WGRR hosts Janeen Coyle and Chris O'Brien.