Life's a Bitch and Then You Change Careers
9 Steps to Get Out of Your Funk & On to Your Future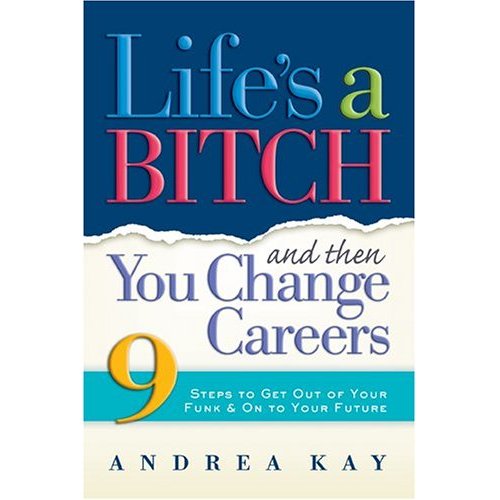 Amazon.com Avg. Customer Rating:
Barnesandnoble.com Avg. Customer Rating:
|
Buy on Amazon
| |
Buy on Barnes & Noble
|
Designed for career changers of every age, this life-changing book works like a one-on-one counseling session, showing you how to discover and create a career that fits your life and who you are-not what others think you should be. You'll discover how to have more meaning, more control and less stress in your life and work. Learn:
The first thing you must do
What to do if you're over 40
The top 7 interview questions to be prepared for
How to get an offer in a new career when you have no experience
How to stay focused and motivated
How others made successful career changes
If you have what it takes to make a change
What hardly anyone considers when making a career change
The secret to getting an offer
This is Life's a Bitch and Then You Change Careers, a part of Career Advice Books, on Andrea Kay's website.
Buy the Book
Test Yourself
Awards
Amazon's 14th best selling book in the job-hunting category!


Named as one of the "Great Books That Will Change Your Life" by Amazon.com
"I read Life's a Bitch in 2006 and was prompted to change careers after 14 years in business. I went back to school for my master's and became a therapist. Thank you for writing a book that inspired me to do what I love."

--Deb Pavlico psychotherapist & author of "Conversations With Women: The Journey Toward Self-Esteem"
"Working through your exercises prompted me... The more I learn, the more excited I become... This is my chance!... This is it!! Sure, I could find another role...But to what end? I would be disingenuous to myself...So I have decided {to start) my business. I am 25% scared out of my mind, but 75% excited. I am eternally grateful that you and I had the chance to meet, connect and discuss my career when we did. Thank you, Andrea. Thank you for opening my mind and giving me the courage to follow a dream."

--Corporate manager turned entrepreneur
"Thank you for the books you write…you know how to get to the heart of the matter in a very approachable way! This is no easy task! I completely enjoyed "Life is a Bitch and then You Change Careers". This was a joy to read and I look forward to your future publications."

--Sonya
"I read your book and figured out what I really wanted to do. I thought, why hadn't I applied for the Peace Corps earlier in my life! The book also taught me that I didn't need a new job to fix my unhappiness. I began to understand that I wasn't working with the right type of people in the office. Once I learned that, I became much more assertive and overall the my work environment became much better."

--Nick
Cincinnati, Ohio
I truly LOVE LOVE LOVE Life's a Bitch and have given copies to friends.

--Sue Soldo
"I just bought your book, Life's a Bitch... When I started reading step 1, my eyes started welling up with tears. It's like you understand what I'm feeling and going through...I wanted to thank you for putting this type of book together."

--Reader in Maryland
"I learned about you through your book 'Life's a Bitch...' What a wonderful tool! I took my time reading it and took it very seriously. I was completely stuck in my career, and actually very sad. Imagine a grown woman crying every Sunday night because Monday's approach. The job was not bad, I had the best coworkers...I was simply unfulfilled. It took me a total of 47 days to read your book and do all the exercises. After that, I committed to 15 days of pure 'thinking' about the things I had learned about myself with your help. Now, 7 months later, I have successfully transitioned careers. Not only that, I got the job for an additional $15k pay increase and have started a Masters degree in Industrial-Organizational Psychology....did I mention that I love my job!? I got everything that I had written down as the 'things that I want' because I took this seriously. You have a gift, thank you for sharing!"

--Dorana Sylvia
Washington, D.C.
"I recently finished your book and left a 24-year career, making big bucks to a brand new career serving senior citizens with dementia. It is the greatest decision I ever made. The book helped me realize that there is more than money. I knew I was looking to find my passion, and the book helped me put that together. I love going to work every day."

--Reader in Seattle
"I have been recommending Andrea Kay's books to my clients for years. She provides a clear, practical path that is also creative, fun and user-friendly. When you are looking for a job, whether a recent graduate, changing career in mid-life or returning to the work force, the last thing you want to read is a tedious and uninspiring book. If you are looking to make a change, do yourself a favor--read Andrea's books!"

--Beth Planzer, Therapist