Interview Strategies That Will Get You the Job You Want
Amazon.com Avg. Customer Rating:
Buy the Book
"This book changed my attitude and strategy when interviewing! I could never seem to get past 1 or 2 interviews. After reading your book and doing the homework, I was offered the job I want. Kudos!"
--U.S. reader
"Easy-to-read and use guide to getting a job that you find fulfilling."
--Orange County Register
"My husband and I want to thank you so much for writing your book. Most helpful was that you gave so many real examples of how a question would be asked and many examples about effective answers. We did every step in your book and my husband's final interviews were so much smoother. He was able to explain himself much more effectively after reading your book and doing all the exercises. I do a lot of reading and there are few exceptional books out there. Your book was so complete and never left us wondering what you meant when you gave advice. He got a great job. Thank you, thank you, thank you."
--Reader in Washington
"Thank you for such an engaging, informative and encouraging book. I faithfully used your interview strategies to help prepare me for the interview process."
--Jo, Rochester, New York
"Andrea Kay's book is the most helpful and comprehensive interview preparation book I have read and her lively writing style and down-to-earth attitude make it a pleasure to read. If you read the book and follow the exercises, you can?t fail to improve your interview skills. I consider this a ?must read? for career professionals, either as a recommended resource for clients or as a comprehensive primer on interview preparation."
--Louise Kursmark, Best Impression Career Services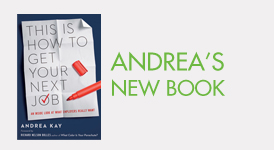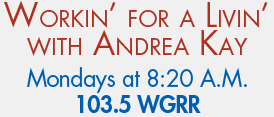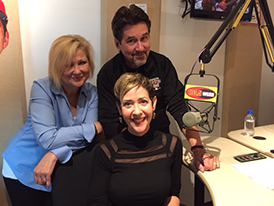 Talking about workin' for a living with WGRR hosts Janeen Coyle and Chris O'Brien.