About Andrea
Andrea Kay helps people get excited about jumping out of bed and raring to go to work. For the past 25 years she has been creating and recreating Andrea Kay/The Art of Self Direction, a career consulting firm whose clients range from rocket scientists and cowboys who want to change careers to accountants and engineers who have trouble relating to people.
Andrea specializes in "Career Therapy." She is incessantly curious and quickly gets to the heart of an issue, then creates strategies to help people get what they want. She does this for CEOs, millionaires, corporate warriors, writers, real estate moguls, entrepreneurs and people who take their careers seriously. She writes books and the syndicated newspaper column, "At Work" and gives speeches to Fortune 50 companies, professional associations, schools and at special events.
She has worked with people who ended up being CFOs of major companies, sales and marketing executives, artists and successful entrepreneurs and has helped CEOs, financial managers, Hollywood producers and teachers discover new, satisfying careers. She has developed a reputation as a workplace observer and outspoken supporter of taking personal responsibility for your career and is widely quoted and interviewed.
Her books
She has published six books: This Is How To Get Your Next Job: An Inside Look at What Employers Really Want, Work's a Bitch and Then You Make It Work: 6 Steps to Go from Pissed off to Powerful, Life's a Bitch and then You Change Careers: 9 Steps to Get Out of Your Funk and On to Your Future, Interview Strategies That Will Get You the Job You Want, Resumes That Will Get You the Job You Want and Greener Pastures: How To Find a Job In Another Place.
Her column
As a weekly newspaper columnist since 1988, Andrea has written over 1300 articles on careers and workplace issues. Today her syndicated column, "At Work" appears in USA Today and Gannett newspapers from California to New York to Canada and Guam and other Gannett media on the Web.
Her speeches
Andrea has presented workshops, keynote speeches and counseled employees at such companies as Procter & Gamble, Apple Computers, Westinghouse, Frito-Lay, General Electric, NCR, Humana, Union Carbide, Whirlpool Appliances, Cincinnati Bell Telephone and Marion Merrill Dow. Andrea has been named Outstanding Speaker by the Society for Advancement of Management and her talks have been named Best Program of the Year by the National Association of Women in Construction.
Media experience
Andrea has appeared on the CBS morning news show numerous times and featured on hundreds of television and radio programs across the U.S. and Canada and internationally on Reuters News. She's been widely quoted and interviewed in national publications including The New York Times, The Wall Street Journal, The Chicago Tribune, Associated Press and Smart Money, Kiplinger Financial Magazine, Redbook, Mademoiselle, National Business Employment Weekly, First For Women Magazine, Essence, Woman and Financial Woman Today.
Andrea was a weekly contributor on career and workplace issues on a National Public Radio affiliate and has presented weekly career features on an ABC television affiliate morning news program. She is the career expert for WKRC television and is heard every week on "Workin' for a Livin' with Andrea Kay"  on WGRR Radio.  She hosted the live, call-in radio career talk show, "Ask Andrea" and hosted "Job Talk," a live, call-in radio career talk show on public radio. Her video tape, Common Mistakes in Interviews and How to Overcome Them, is published by Cambridge Educational.
Awards
Andrea has been awarded the Women In Communications Gem Award for adherence to the highest standards of practice in professional communications and support of women in the work force. She was named Best Career Counselor in Cincinnati by Cincinnati Magazine in its 2002 "Best of the City" issue and Leading Consultant and Trainer by Leading Women in 2009. Andrea's books have been recognized by the Ohioana Library Association for Literary and Artistic Achievement.
Andrea is best at
Asking deep, intuitive questions and getting to the heart of an issue. Clearing up your confusion. Not letting you off the hook. And supporting you 200% on your way to getting what you want.
Andrea also does this
Acts as a volunteer mentor for the Writer's Guild of America East Foundation's Veterans Project, a writing workshop for veterans.
Serves on the board of a psychoanalytic institute.
Is always learning Spanish.
This is About Andrea, a part of Andrea Kay's website.
Awards


Andrea Kay was named "Best Career Counselor" by Cincinnati Magazine


Andrea was awarded the Women In Communications Gem Award
For adherence to the highest standards of practice in professional communications and support of women in the work force.


Andrea was given the 2009 Leading Woman Award for Consulting, Training and Education by Leading Women.
"You make the world a better place! Thank you for your inspiration and generous spirit and energy."

--Kathy
"...most of all you helped me rediscover what gifts I had to offer...recently I read a quote from Albert Schweitzer that elucidated that experience: 'Sometimes your light goes out but is blown back into flame by another human being. You owe your deepest thanks to that person who has rekindled your light.' You did that for me, Andrea, and for that I am most grateful."

--CEO
"You have a real talent, nee, a genuine gift, for bringing out a person's thoughts and then using that information to quickly get at the heart of the matter. After just two or three minutes with you, the floodgates of possible solutions as to what had been nagging at me for months, just opened. Not only do I have a great starting point to begin working on getting back to being my best self, it's almost like the issues were solved when I walked out your office door. In addition I felt a sense of relief. You made me believe and realize I can use my talents to their full potential. It may sound corny but it's true! Thanks again for helping me find the direction I have been needing."

--Financial professional
"I have been trying to determine a new career focus for the past 3 years. I have worked through numerous career transition books as well as consulted with another well known career counselor, and was still no closer to a definitive answer. Within just a few short sessions of working with you, I now have a clear direction! Your approach seems designed to whittle away the extraneous so that the overall patterns emerge.Your support, insight and ability to ask penetrating questions allowed me to gain the clarity that I had been searching for in all those other explorations. I just can't thank you enough for all your help. I am so excited to be embarking upon a new path!"

--Professional in Massachusetts
"The articles on your site are always helpful, and I religiously try to read anything you post, even if it does not pertain to me. On another note, I learned about you through your book 'Life's a Bitch...' What a wonderful tool! I took my time reading it and took it very seriously. I was completely stuck in my career, and actually very sad. Imagine a grown woman crying every Sunday night because Monday's approach. The job was not bad, I had the best coworkers...I was simply unfulfilled. It took me a total of 47 days to read your book and do all the exercises. After that, I committed to 15 days of pure 'thinking' about the things I had learned about myself with your help. Now, 7 months later, I have successfully transitioned careers. Not only that, I got the job for an additional $15k pay increase and have started a Masters degree in Industrial-Organizational Psychology...did I mention that I love my job!? I got everything that I had written down as the 'things that I want' because I took this seriously.

You have a gift, thank you for sharing!"

--Dorana Sylvia, Washington, D.C
"I read your column most every week, but I just have to say this one [on being assertive to avoid being ignored] is especially well-researched and written, and highly, highly relevant to pretty much everyone in the job market today. Bravo to you for explaining not only how to try to solve this problem, but for giving insight into what causes it (i.e. the psychology behind the inaction) in the first place. I wish more career writers provided this kind of insight. Thanks for this super-useful information!

--Nancy E., reader in Cincinnati
"I am struck with how good you are at conveying ideas. Reading and listening to you is just like having a friend talk to you."

--M.N., Sedona in Arizona
"One of the best presenters I've ever come across."

--Wright State University workshop participant
"She is the perfect combination of energy, humor and charisma, offering intelligent insight with a sense of humor."

--Career Masters Institute International Conference participant
"She is bubbly, fun and a good talker."

--CBS News This Morning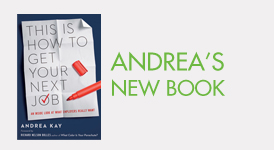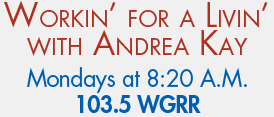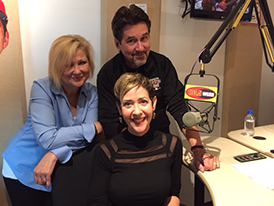 Talking about workin' for a living with WGRR hosts Janeen Coyle and Chris O'Brien.